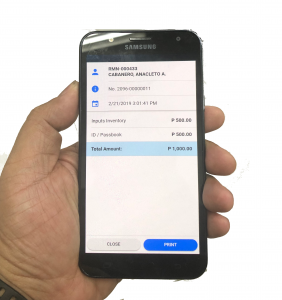 Record reading from meters, compute the billing and print the subscriber's statement of account (billing) immediately using a mobile phone. This will accurately record the transaction and can be downloaded fast to the back-office accounting and collection system at the end of the day. At the start of the day, all information of the subscribers (number, name, address, type of the subscription, value of the previous reading and previous billing) are loaded into the gadget before going out to the field. On the field, the meter reader inputs the account number and the current reading. Then the data is saved and prints the account statement immediately for handover to subscriber.
Features:
Mobile POS Device
Custom-made electric and water utility meter reading software.
Multiple grouping/location
Easy entry
Custom fields/columns
Easy search feature
Reading counters: total records, total readings, total unread and percentage complete.
Wireless connectivity to Bluetooth printer and keyboard.